Almost 10 years after his haunting 'I Am Love', Luca Guadagnino tells another "illicit" love story. Between two human beings that, for a brief moment in time, lived free of the rules of their gender, age and culture, in a world where there was no room for abuse of any kind.
What if there were no borders? No dividing lines, binaries or otherness? What if we all knew the History of words and could speak many languages, sometimes at once, flowing from one to the next? Much in the same way Elio Perlman (the wise beyond his years, Timothée Chalamet) and his family communicate in English and French and Italian and German and in silence. And like them, understood each other. Wonderfully subverting the myth of Babel, not falling into chaotic miscommunication, but ascending to tranquil empathy. What if we had more that one country or home, and the constant gaining of knowledge always trumped religion? As Mr (the wise… below his years Michael Stuhlbarg) and Mrs Perlman (the calm force Amira Casar), who are at the moment residing in the deeply catholic rural Italy, while being (cosmopolitan) Jews and having more than one base on both sides of the Atlantic.
What if we were gender-blind and didn't fall in love with a boy or a girl, but simply with another human being? Anyway perfectly fitting in the unidentifiable as male or female underwear hanging from the bathtub tap to dry. Not unlike Elio, the sensitive, self-assured teenager, who knows so much but claims ignorance when it comes to "the things that matter". Who has a fling and loses his virginity with a girl – a good friend, but won't deny, ignore or leave unrequited his first big crush with Oliver (the unexpectedly audacious Armie Hammer): the seemingly "arrogant", distant American, who is visiting as his father's research assistant. What if we didn't dismiss or forget the boldness and tenacity of youth on the cusp of adulthood? Instead, paid attention, cherished and surrendered to it. Even for only a few days of one, glorious summer. Striped down to the bare essentials of our being, unable to tell who is who, a she or a he, the 17 years old or the 24, you or I.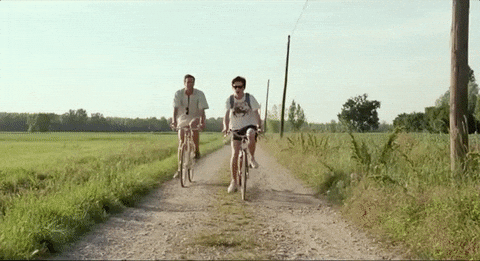 What if we explored History and Art as part of our everyday life, effortlessly? Read or study a book under the sun, play the piano after a quick bite or the guitar under a tree, combine a visit to an archaeological dig by the sea with an impromptu, playful swim. What if we could live more in sync with nature that sustains us without judgement, censorship or discrimination? Nature that "has cunning ways of finding our weakest spot", which is perhaps our truest one if we are strong enough to acknowledge it. What if we ate the fruits of our garden and the fish of the sea nearby? What if we cried in the rain or in front of the fire, laughed in the water, kissed on the grass and flew in the air, riding a bicycle? Neither ignorant or innocent, nor experienced or sinful.
What if a parent submitted to the child's experience and respected its choices and pain? Finding nothing wrong in falling in love with another, older (hu)man. Celebrating the unrelenting purity, sincerity and force of the first young love. Prompting the child to not kill the pain it feels so that it will not also kill the joy it felt. Lessening his or her own adult, "wise" experiences, not to make the child feel better, but to make it really see what it had, and remember always and regret it never. Because "we rip so much of ourselves to be cured of things faster than we should" even though "our hearts and our bodies are given to us only once".
What if a parent lied to his child, not because he thought it wouldn't understand, but so that to spare it any embarrassment or shame? As Mr Perlman tells Elio that he doesn't think mum knows, even though it became abundantly clear throughout the film that both parents figured out what was going on between Elio and Oliver, and did anything but discourage, admonish or punish them. Which brings me to my last set of questions. What if we lived our lives succumbing to love and not fear? What if you call me by your name and I will call you by mine?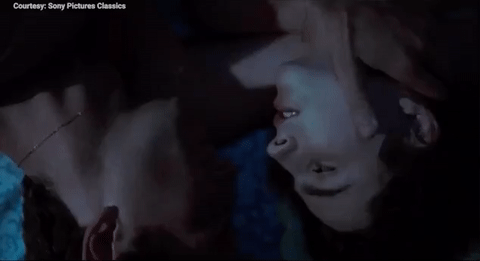 Categories: On film & other blessingsTags: Amira Casar, Armie Hammer, Call Me By Your Name, Luca Guadagnino, Michael Stuhlbarg, Timothée Chalamet