What a tricky, terrible and yet wonderful, frustrating and at once satisfying year for women on both sides of the screen this was. It started with a devastatingly regressive Presidential election. It continued with a series of long overdue progressive booms in our pop culture. And it culminated in an explosive disclosure of chronic toxic masculinity that shook Hollywood to its core and can change the status quo forever. Especially since, on-screen, the revolution had already began.
This was a year that afforded us with both maddening lows and exhilarating ups. On one hand we had the clumsy devastation of an archetypal and timeless myth of authoritative, nonconforming femaleness by Ridley's Scot misguided Alien: Covenant. But on the other we saw the rise of Patty Jenkins's Wonder Woman. This was the first ever female super hero's solo film that became a bona fide blockbuster as well as DC's biggest critical and commercial success since Christopher Nolan's Dark Night trilogy. It was also undeniably flawed but hugely entertaining and most importantly directed effectively by a woman.
Then we experienced the re-release of Terminator 2, reacquainting ourselves with the original, ground-breaking female action hero, Sarah Connor. And realising how little Hollywood have invested in and developed her legacy the furious backlash her creator, James Cameron, received for stating the obvious, surprised some (few) of us. Yes, Diana Prince/Wonder Woman is a cool character in a decent movie, but in her skin-tight, quite revealing costume she is still there, at least partly, to be looked at. More or less objectified, like Suicide Squad's Harley Quinn, Iron Man's and The Avengers' Natasha Romanoff/Black Widow or Underworld's Selena before her, to name just 3 of her predecessors. In other words, Diana was a welcomed, long overdue addition to our pop culture canon, but was not as revolutionary as she should have been.
Then, at the beginning of October The New York Times published their damning investigation into Harvey Weinstein's chronic sexual misconduct and all hell of sexual abuse finally broke loose. As more and more A-listers broke their silence women were at long last heard, believed and respected. We are now able to see and recognise the opportunity of an actual, systemic change, as The Silence Breakers stare back at us from the cover of Time. We finally have the conversations we thus far avoided, by asking the right questions. Like, how does Hollywood still treat its young, fresh female talent off-screen? And how at the same time struggles to shake off the habit of not knowing what to do with most actresses over 40?
Big Little Screen
TV started getting it right long before its big screen sibling. Particularly cable and streaming services such as the pioneering HBO or Netflix, which are dependent on subscriptions and thus are luxuriously unbound by ratings or censorship. The tide started to change way back in the mid 90s by the anything but a sex object, girlfriend, mother or housewife, Special Agent Dana Scully of The X-Files phenomenon and the phenomenal Gillian Anderson. Then Kate Mulgrew's authoritative Katherine Janeway became the first ever female Captain of a Federation star-ship on Star Trek: Voyager paving the long way to older, more mature, complex and atypical female characters taking back control of their identities, bodies and sexuality.
Extraordinary women that have become a staple of our TV culture the last decade or so. From Melissa McBride's formidable Carol of The Walking Dead, who transformed herself from an abused wife and fearful mother to a childless exterminating angel and fearless protector of the weak, to the disarmingly fierce and complicated warriors, rulers, witches, Queens and a mother of dragons of the Game of Thrones.
From the omnipotent yet deeply flawed ladies of the House Of Cards, Scandal and How To Get Away With Murder, to the troubled and messy, yet persistently reliable heroes of Homeland and Jessica Jones. From the anything but Good Wife and the anything but ruthless criminals of any age, race, class and sexual orientation populating the women's prison in Orange Is The New Black, to the old but still alive and kicking Grace And Frankie, aka Jane Fonda and Lily Tomlin!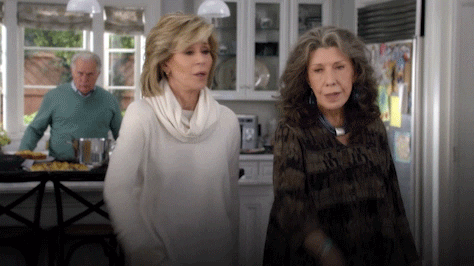 All are human more than anything else, not merely defined by their spouses, boyfriends or motherhood. Many directly or otherwise inspired by the more fearless, open-minded and flexible non-American TV (Top Of The Lake, The Bridge, The Killing, Fortitude, Borgen). And a few of them created and often directed by women. Women like Lesli Linka Glatter (Homeland, The Leftovers), Michelle MacLaran (Game Of Thrones, The Leftovers), Roxann Dawson (who after her stint as Star Trek Voyager's chief engineer B' Ellanna Torres made her name as a prolific TV drama director), Marti Noxon (Buffy The Vampire Slayer, UnReal), Jenji Kohan (Orange Is The New Black), Marta Kauffman (Grace and Frankie), Anna Foerster (who directed the 3 most hauntingly courageous episodes of Outlander's season 1, 'The Wedding', 'Wentworth Prison', 'To Ransom a Man's Soul'), Norma Bailey (who this year directed the tender, and funny, and true episode of mature sex, 'A. Malcom' of Outlander's season 3) and of course – the powerhouse that is – Shonda Rhimes (Grey's Anatomy, Scandal).
The three that rocked the cradle
This year however, after 2016, when some beloved series ended by more or less, one way or another, betraying their central female hero (Penny Dreadful, The Good Wife, Masters of Sex), the change on our TV/mirror became clear, profound and undeniable. First, as we struggled to accept Trump's ascension to presidency, we were introduced to the gang sharing Big Little Lies. That show was the love child of Reese Witherspoon and Nicole Kidman – two Oscar winners well past their ingénue years. It was based on Australian Liane Moriarty' novel with which both Witherspoon and Kidman fell in love with. They bought its rights and along with Moriarty produced the miniseries for HBO, through their respective companies, Pacific Standard and Blossom Films. Together they assembled a stellar, mainly female cast, kept two of the pivotal starring roles for themselves, declined roles in Downsizing and Wonder Woman respectively, and entrusted the director's chair to the Oscar nominated Jean-Marc Vallée (Dallas Byers Club).
(WARNING: The following video contains serious spoilers. Do not press play if you haven't yet experienced 'Big Little Lies' in its entirety !)
The result was a 7 episodes drama, part who-done it mystery and part character study. And though the mystery's culmination wasn't particularly surprising or effective, the study, meticulous, patient and anything but patronising was riveting. Here was a group of endearingly complex and flawed humans in pursue of the ever-elusive happiness while coping with parenthood, supportive and less supportive spouses or singlehood, paying or volunteering careers, infidelity, abuse, denial, trauma and, yes, gossip. They were all mothers, three of them well into their middle age (Kidman's Celeste, Witherspoon's Madeline and Laura Dern's Renata), while two still young adults (Shailene Woodley's Jane and Zoë Kravitz's Bonnie). They were all beautiful and seemingly had the perfect life on the stunning Californian coast of the Monterey Bay area. And all, friends and frenemies, could be bitchy sometimes as their men could be gentle and total bastards. But ultimately, they all knew, deep in their core, what it means and feels like to be a woman, perfectly foreshadowing the #MeToo movement. That's why, in the end, with not a single word exchanged, they realise the truth, see, understand and fight for each other. Forming a camaraderie of their own, as solid, painfully sincere and forgiving as the much-fabled notion of brotherhood. This way, as they find their place and strength together, motherhood becomes common ground and womanhood an integral part of the human condition.
As if following their steps, The Handmaid's Tale graced our screens immediately after, dropping the jaws of audiences and critics alike to become the TV event of the year. Adapting Margaret Atwood's dystopian novel, Bruce Miller (The 100, Alphas, Medium) shook up pop culture. First, by (re)acquainting it with one of the most prolific, versatile and authoritative feminist voices of contemporary literature. Second, by assembling a team of formidable women, including Atwood herself and his "enlightened" star, Elisabeth Moss, to produce, write and direct the series. He shared his EMMY win for Outstanding Drama Series with five of them, while Reed Morano made history by becoming the first in 22 years (after ER's Mimi Leader in 1995) and the third ever (Cagney & Lacey's Karen Arthur being the first in 1985) woman to win the EMMY for Outstanding Directing for a Drama Series, (for the first episode, 'Offred').
And third, above all, by creating a hauntingly prompt and urgent allegory that functioned both as a mirror raised up to our regressive time, and a wake-up call for what the future holds if we are not vigilant. Never being obvious, loud or condescending, The Handmaid's Tale illuminated the still lingering inability of even the most progressive, western societies to reconcile motherhood with the rest of what it means to be woman, or indeed human. It also laid bare the inherent conservatism, prejudice and fear of human societies: when the going gets tough, the tough… reverts to "safe" and "tested" traditions of classifications, subjugation, divisions, intolerance, unholy alliances (like the one the female led Mexican delegation is seeking with Gilead), public executions (of the rapist by the handmaids), bread and circuses. Both The Handmaid's Tale and Big Little Lies surprisingly scored a second season (the latter with the extraordinary Andrea Arnold attached to direct), boldly going beyond the contained stories of their source material. And both, along with Feud, dominated the EMMYS, as well as the Golden Globes and the SAG awards in wins and nominations.
Feud was the latest of American TV's enfant terrible, Ryan Murphy (American Horror Story, American Crime Story, Glee). A limited series that chronicled Bette Davis's and Joan Crawford's infamous antagonistic relationship during the making and release of Whatever Happened to Baby Jane?, it stared the magnificent Susan Sarandon paired with the invigorated on the small screen Jessica Lange. And in retrospect its timing and shrewdness couldn't have been better. It exposed how little Hollywood's system and culture has changed over the years, as it disclosed how a powerful man like Jack Warner (Stanley Tucci) bullied his director Robert Aldrich (Alfred Molina) into sneakily abusing, manipulating, pitting against each other and taking creative control away from his iconic female stars. Or how unsupported, isolated and marginalised a woman who wanted to direct, like Aldrich's right hand "man", Pauline Jameson (Alison Jameson), could be made to feel, even by well-meaning colleagues or fellow creative women.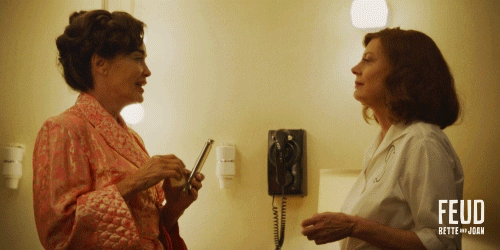 In the end, it is staggering to realise how absolutely Feud resonates with the current harassment storm pop culture finds itself in. Indeed, a short line by Aldrich's wife, Harriet, could be used as our times' mantra. When Robert complains that equally famous male stars would never resort to such cunning off camera machinations, Harriet responds, "They don't have to. They are men".
The rest that also ruled the (TV) world
The above three weren't alone in fearlessly breaking new ground. Brave new series followed suit, making 2017 a watershed year for women on TV.
The Defenders set the panoply of Marvel's and Netflix's superheroes, Daredevil, Jessica Jones, Luke Cage and Iron Fist, against the brilliantly subversive trinity of the "Mother" Madam Gao (Wai Ching Ho), the "Daughter", Alexandra Reid (Sigourney Weaver), and the unruly "Holy Spirit", Electra Nachios (Elodie Young).
The uncompromising Sinner was a captivating murder mystery, investigating not the identity of the killer but her motive, on one hand. And on the other, a heart-breaking scrutiny of the devastating effects of verbal or physical abuse. But above all it turned the crucial contemporary term of mansplaining on its head: in this men's world of ours only an equally self-doubting, victim of abuse himself, police officer Harry Ambrose (the outstanding Bill Pullman), can understand the predicament and rally to the defense of the haunted but peaceful wife and mother that unexpectedly turned murderess, Cora Tannetti. Last but not least, it gave the opportunity to its executive producer and star, Jessica Biel, to find and bring to life a meaty character that Hollywood would never guarantee to her on the big screen.
Godless finally got right the concept of a female driven western. Created by – a man – Scott Frank (Logan), but anything but mansplaining. And led by the incomparable Jack O' Connell, Michelle Dockery, Merritt Wever and the SAG nominated Jeff Daniels, it wordlessly communicated how women survive and find their transformative power through loss and abuse within an unforgiving masculine culture. Anything but damsels in distress the women of the town of La Belle realise that they neither can, nor have to rely on any man. Except maybe only the two that have also experienced loss and abuse.
Alias Grace was another adaptation of a Margaret Atwood novel. Written by Sarah Polley (Away From Her), directed by Mary Harron (American Psycho) and staring the arresting Sarah Gadon, it was relentless in its ambiguity. Its persistence in posing difficult questions, leaving the viewer solely responsible for the answers. Its ability to make perceivable all that remain deafening unspoken. And its open ending. When Grace, an old woman now, turns and looks directly at the camera, at us. Silently stating a simple fact: women rarely, if ever, have been treated as equals, worthy of even the basic human rights.
There was also the mind-bending Mindhunter and the audacious, atypical sequel/season 2 Top Of The Lake China Girl (but more on them at Vol. 2) that deepened and widened the horizon of our TV screens further. Off screen, reality still trails a few steps back as some pesky inequalities, as the gender pay gap or the inadequate representation of woman of colour persist. On both on these counts however our brave new TV has a lot less ground to cover than (Hollywood) cinema. Especially since it no longer is a last resort for on and off-screen talents that for some reason can't find a worthy fit on the big screen anymore. Instead, it has become an extra, vast and far less restricting platform, where even Oscar nominated or winning artists as all the above, plus Guillermo Del Toro (The Strain),  David Fincher (Mindhunter) and Jane Campion (Top of the Lake) chose specifically to further explore and experiment with their creativity and the limits of their art.
To be continued. Till then, happy new year and… nolite te bastardes carborundorum, bitches!
Categories: On film & other blessingsTags: Alias Grace, Alien: Covenant, Big Little Lies, Feud, Godless, Harvey Weinstein, MeToo, Person of the Year 2017, Sinner, Terminator 2, The Defenders, The Handmaid's Tale, Wonder Woman